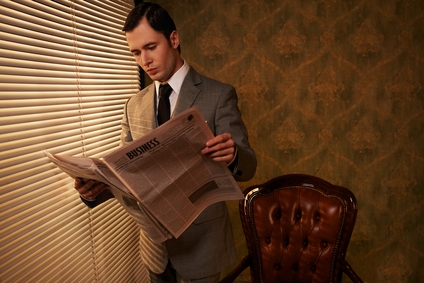 You like your film noir and your tablecloth white. Your whiskey, naturally, is on the rocks and your money is clipped. Fashion icons include Clooney and Craig. You attend parties so you can wear your newest Omega Planet Ocean Watch with your favorite dark Armani suit. This spring you're looking forward to wearing that snugly fitting jean jacket as a cardigan under your new Gant by Michael Bastian sport coat.
What are your living quarters like? How does your pad define the truly sophisticated gentleman you are?
Lounge
An eye for design is a key element for the cool sophisticate's ultimate pad. While your dapper style is gentlemanly and suave, you must add a modern twist to your mystery. From matching CasaSugar soft brown leather chairs to vintage black and white photographs of 1950's advertising that hang over your mid-century record player radio cabinet, there are dark secrets hidden in every crevice of your living quarters.
Liqueur
Every cultured habitat requires a killer bar for winding down after a long day at the office. When entertaining clients or a love interest, vintage barware is sure to draw out a silent squeal of delight as you shake up your classic Hendricks martini, accessorized by Rogue River Blue cheese stuffed olives—special ordered from Murray's Cheese Shop in Manhattan.
Literature
Books indicate a well-read man. Each publication tells a story, whether it be your anthropology textbook from college, vintage hardbacks of Shakespeare classics or a collection of future fiction by Aldous Huxley and George Orwell. There are secrets hidden between every page. Where were you in your life when you were reading "Brave New World?" How did that copy of "The Count of Monte Cristo" get that water stain across the lower corners of the pages? You'll never tell.
Coffee table books are a first-class way to impress, allude to your charming interests and convey style. A visually engaging look into your hobbies, sports interests, fashion icons and musical heroes lie on your table for everyone to see.
Loft
This spring, don't let your blazer pack heat. GQ recommends you turn to Tom Ford to outfit you in a toothy linen-and-wool blend textured blazer atop an evolved polo shirt with ribbing and piping. While Yoshi Ayaka eyeglasses are a must have on certain days to rest your weary eyes from visiondirect.com contact lenses, they might get in the way of your classic square Wayfarers that continue to reign supreme this spring.
Lighting
Even the greatest of sanctuaries is nothing without proper illumination. Mid-century modern might be your choice, considering that is where the television show "Mad Men," your current dapper inspiration, sits as far as style. Try a 1962-inspired Arco arched floor lamp sold by FLOS and George Kovacs lighting.
Add task lighting for work-related functions like cooking and reading. With dimmable LEDs and directional heads, modern track lighting gives a unique twist with adjustable glow. Also, wall sconces, pendants and luminares reduce glare and brightness that is not conducive to a classic gentleman's parlor.
With all of this sophisticated luxury, you have officially locked in your cool quotient.